CASH OUT ­ Your easy way to take a profit early.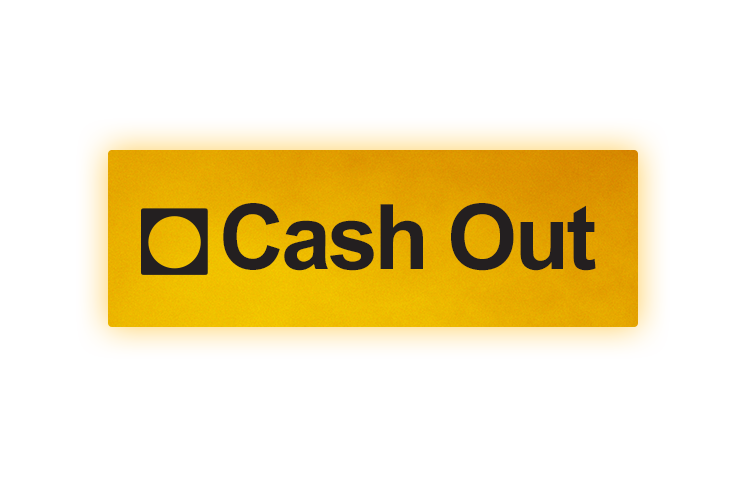 Cash Out is an easy way to guarantee a profit regardless of the final result or cut your losses at any time. It's your call. All at the click of a button. And you've got choices – you can either take the full amount or choose how much you want to Cash Out and leave the rest of your stake to run.
You can Cash Out on lots of sports including Football, Horse Racing and Tennis ¬ simply hit the yellow 'Cash Out' button to Cash Out your bet.
Look out for our orange Cash Out symbol on your betslip ­on desktop and mobile.
HOW CAN I CASH OUT PART OF MY BET?
It's easy. And our Cash Out slider does all the work. Simply open up the slider by clicking the "Cash Out part of my bet" in the dropdown list, and choose how much you wish to Cash Out.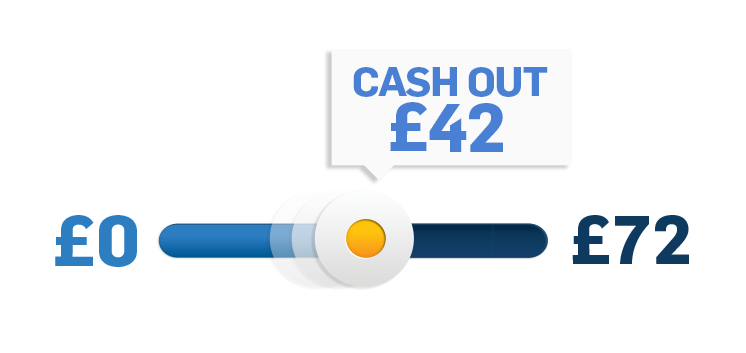 Remember, you can Cash Out as many times as you like on a single bet, providing that the Cash Out slider is available.
HOW DOES CASH OUT WORK ON HORSE RACING?
You can Cash Out your Win and Each-Way Horse Racing single and accumulators bets, both pre-race and in-running.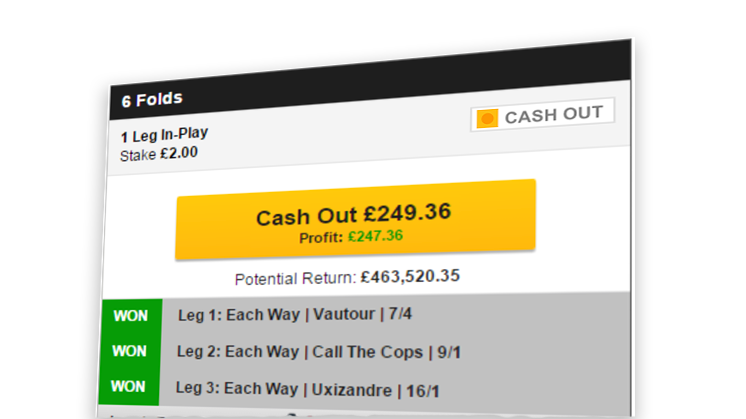 It is available on a number of racing markets. Look out for the orange Cash Out symbol in the betslip. Cash Out is not available for antepost bets.
What is the confirmation screen and how does it work?
The confirmation screen provides protection against accidental clicking of the Cash Out button. If you have the confirmation screen enabled, and click the Cash Out button, you will see an overlay summarising your Cash Out position, and be required to confirm you wish to proceed.
To manage whether the confirmation screen appears, go to the 'settings' tab at the top of the Cash Out page.
Why does my bet not appear on the Cash Out Page?
Cash Out is currently only available for certain bets. To ensure Cash Out is available for your bet, please check that all of the markets have the Cash Out icon next to them
Antepost bets do not qualify for Cash Out
Bets on Enhanced specials do not qualify for Cash Out
Does the take amount include my stake?
The 'take' amount is the total amount that will be returned to your account if the Cash Out is successful, and the stake will not be returned separately.
Why is the Cash out Offer Suspended?
When betting is suspended on a market, Cash Out offers for Singles on this market or for accumulators involving this market are also suspended. If the value of the Cash Out offer would be £0, the Cash Out offer is also suspended.
Why is there a delay when I click Cash Out?
During some In-Play events, delays are used to ensure that there is enough time to suspend the Cash Out when a major event occurs — such as a goal being scored
Why wasn't my Cash Out successful?
Cash Out offers are not guaranteed. If there is a sudden large movement in market prices, your Cash Out may be unsuccessful. If your Cash Out is successful you will see a Success message. If your Cash Out fails, you will see a Failure message, and a new offer will appear.
When do I get my money?
When a Cash Out is successful, any returns are credited to the account immediately.